Salina Regional Health Center Selects ezDI for Integrated Computer-Assisted Coding (ezCAC™) and Clinical Documentation Improvement (ezCDI™) Solution as Well as Coding Compliance and Analytics Tools
ezDI announced today that it will provide Salina Regional Health Center with a fully integrated suite of cloud-based CAC and CDI software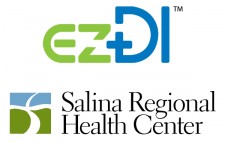 LOUISVILLE, Ky., December 21, 2017 (Newswire.com) - ezDI announced today that it will provide Salina Regional Health with a fully integrated suite of coding workflow software that includes ezDI's integrated Computer-Assisted Coding (ezCAC™ ) and Clinical Documentation Improvement (ezCDI™ ) applications to include complete encoder integration, a compliance module (ezAssess™) and a business intelligence application (ezAnalytics™).
Salina Regional Health Center is a progressive three-hospital health system in Salina, Kansas, and recent winner of the prestigious "Healthcare's Most Wired 2017" award. Salina is a Meditech EHR hospital system that is currently implementing Meditech's 6.1 platform. ezDI will deliver its sophisticated ezCAC/ezCDI coding toolset through a flexible, cloud-based platform in the Meditech 6.1 environment. ezCAC/ezCDI will enable Salina Regional Health physicians to effortlessly collaborate with Health Information Management, Coders, and CDI staff, providing the highest degree of code assignment, clinical documentation integrity, and coding compliance.   
The Coding, CDI team and HIM Directors from our affiliated hospitals reviewed several CAC/CDI/encoder software solutions before choosing ezDI. The applications give concentrated attention to our goal of efficiency, accurate code assignment, query processes, available resources for our staff, ease of use and flexibility. We are very excited about having a knowledgeable, service-oriented partner like ezDI for our transition to Meditech 6.16.
"The Coding, CDI team and HIM Directors from our affiliated hospitals reviewed several CAC/CDI/encoder software solutions before choosing ezDI," stated Amanda Raine, health information management director for Salina Regional Health. According to Amanda, "The applications give concentrated attention to our goal of efficiency, accurate code assignment, query processes, available resources for our staff, ease of use and flexibility. We are very excited about having a knowledgeable, service-oriented partner like ezDI for our transition to Meditech 6.16."

"We are ecstatic to add Salina Regional Health as a partner for our Computer-Assisted Coding and Clinical Documentation Improvement, Coding Compliance and Analytics applications," said Terry Ciesla, executive vice president for ezDI. "We are privileged to have Salina Regional Health in our rapidly expanding customer base and tickled to have one of 'Healthcare's Most Wired' hospitals as an esteemed customer. We are looking forward to engaging with the awesome team at Salina to bring simplicity to the many complexities found within a hospital's coding workflow."

About Salina Regional Health Center

Salina Regional is a 355-bed community-owned hospital in north central Kansas' hub of healthcare excellence. Thirteen hundred employees are dedicated to caring and compassionate healing and the physician population represents 30 specialties from psychiatry to cardiovascular surgery to comprehensive cancer care. Salina Regional is the community's trusted healthcare resource.

In the last five years, the organization has invested more than $91 million in new medical facilities and technology. In 2009 the hospital opened a state-of-the-art, six-story, patient tower that houses many of the hospital's inpatient services and allows all inpatients to have private rooms. In the past few years, SRHC has added the da Vinci robotic surgery system, the 128-slice CT Scanner and incorporated Trilogy stereotactic radiotherapy technology in its Tammy Walker Cancer Center.

Salina Regional Health Center includes affiliations with Cloud County Health Center in Concordia, Kansas, and Lindsborg Community Hospital in Lindsborg, Kansas.

Cloud County Health Center was owned and operated by the Sisters of St. Joseph and was established in Concordia in 1903. The Sisters of St. Joseph spearheaded the fundraising and construction of the current four-story building, which opened in 1951. In 2003 the hospital became a stand-alone non-profit facility and is now part of the Salina Regional Health System.

Lindsborg Community Hospital's primary focus is to serve the Smoky Valley communities of Kansas with quality care and compassion. LCH has a team of skilled and knowledgeable professionals. LCH strives to assist people with their personal health through prevention, maintenance, health restoration and support.

About ezDI Inc.

Headquartered in Louisville, Kentucky, ezDI Inc. focuses on developing healthcare IT solutions that leverage cutting-edge technologies including Natural Language Processing (NLP), Machine Learning, Semantic Web and High-Performance Cloud Computing. The goal is to put operational data in the hands of healthcare professionals to help them proactively identify patients at risk, patterns in disease and treatment outcomes. ezDI builds intuitive healthcare IT solutions spanning Clinical Documentation Improvement (CDI), Computer-assisted Coding (CAC), Medical Transcription, Analytics and more. ezDI has been named as one of the top 100 highly innovative companies at TiECon 2014 and ranked No. 1 in the Semantic Evaluation of Clinical Data (SemEval) competition for the year 2015. Website – www.ezDI.com.

Media Contacts:
ezDI Inc.
Terry Ciesla, EVP
866.473.5655
marketing@ezDI.com
https://www.ezDI.com
12806 Townepark Way,
Louisville, KY 40243

Source: ezDI Inc.

Share:
---
Categories: Healthcare, Healthcare and Medical Informatics, Healthcare and Medical News, Healthcare Technology, Hospitals and Clinics
Tags: Clinical Documentation Improvement, Coding & compliance, Computer assisted coding, Computer-Assisted CDI, Healthcare Data Analytics, ICD-10 Solutions, NLP-based Healthcare technology
---
Related Files
Additional Links
ezDI, Inc
12806 Townepark Way
Louisville, KY 40243
United States