ezDI™ Selected by Cayuga Medical Center to Implement Integrated Clinical Documentation Improvement (ezCDI™), Computer-Assisted Coding (ezCAC™) Solution, Coding Compliance and Analytics Tools
ezDI will provide Cayuga Medical Center with ezCAC™ and ezCDI™ application, including coding compliance (ezAssess™) and ezAnalytics™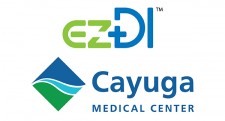 LOUISVILLE, Ky., January 10, 2018 (Newswire.com) - Cayuga Medical Center (CMC) is a progressive general hospital located in Ithaca, New York, serving the residents of Broome, Cayuga, Chemung, Cortland, Schuyler, Seneca, Tioga and Tompkins counties. The hospital has 212 beds in total and is one of the largest hospitals in the Finger Lakes region and the Southern Tier.
ezCAC™/ezCDI™ will enable Cayuga Medical Center physicians to effortlessly collaborate with Health Information Management, Coders and CDI staff, providing the highest degree of code assignment, clinical documentation integrity and coding compliance.
CMC was originally drawn to ezDI by its relationship with ACDIS and the further backing of the Iroquois Healthcare Alliance. The ezDI team has been very easy to work with and was able to demonstrate the user-friendliness and benefits of their cloud-based platform in addition to the detailed real-time analytics that the software provides. We look forward to reaping the benefits of the efficiencies that this product delivers and identifying opportunities to optimize our revenue cycle.
ezDI applications are more secure than traditional on-premise solutions with a dramatically lower total cost of ownership through the elimination of maintenance fees and upgrade costs and a significantly decreased effort to install and operate.

"We look forward to providing Cayuga Medical Center with our cognitive technologies to help improve the quality and efficiency of their clinical documentation," said Terry Ciesla, executive vice president for ezDI. "There is a great deal of excitement here at ezDI as we expand the use of our CAC/CDI toolsets to providers. ezDI is leading the charge with cloud-based technologies and applications that are simple, clean and intuitive." Terry further states, "Our applications are easily configured to work within a customer's coding workflow and not the other way around, where CDI staff and coders must adapt workflow to conform to legacy applications."

About Cayuga Medical Center

Cayuga Medical Center at Ithaca is a 212-bed, acute-care hospital offering state-of-the-art diagnostic and treatment services. They are affiliated with 35 teaching and research institutions, including Weill Medical College of Cornell University and New York Hospital, Columbia University, Roswell Park Cancer Institute, Rochester Heart Institute, Mayo Clinic Laboratories, University of Rochester, University Hospital in Syracuse, Ithaca College and Tompkins Cortland Community College. CMC has an affiliated medical staff of 200 physicians, many of them subspecialists. With more than 1,000 skilled health-care employees and two satellite campuses, CMC is the fifth-largest employer in Tompkins County. Cayuga Medical Center has been designated twice as a "Top 100 Hospital for Community Value."

About ezDI Inc.

Headquartered in Louisville, Kentucky, ezDI Inc. focuses on developing healthcare IT solutions that leverage cutting-edge technologies including Natural Language Processing (NLP), Machine Learning, Semantic Web and High-Performance Cloud Computing. The goal is to put operational data in the hands of healthcare professionals to help them proactively identify patients at risk, patterns in disease and treatment outcomes. ezDI builds intuitive healthcare IT solutions spanning Clinical Documentation Improvement (CDI), Computer-assisted Coding (CAC), Medical Transcription, Analytics and more. ezDI has been named as one of the top 100 highly innovative companies at TiECon 2014 and ranked #1 in the Semantic Evaluation of Clinical Data (SemEval) competition for the year 2015. Website – www.ezDI.com.

Media Contacts:
ezDI Inc.
Terry Ciesla, EVP
866.473.5655
marketing@ezDI.com
https://www.ezDI.com
12806 Townepark Way,
Louisville, KY 40243

Source: ezDI Inc.

Share:
---
Categories: Healthcare, Healthcare and Medical Informatics, Healthcare and Medical News, Healthcare Technology, Hospitals and Clinics
Tags: Clinical Documentation Improvement, Coding & compliance, Computer assisted coding, Computer-Assisted CDI, Healthcare Data Analytics, ICD-10 Solutions, NLP-based Healthcare technology
---
ezDI, Inc
12806 Townepark Way
Louisville, KY 40243
United States